A couple of weeks ago, two police shootings occurred:

In Baton Rouge, LA, police shot and killed Alton Sterling
In Falcon Heights, Minnesota, police shot and killed Philando Castile

Next, several cops were killed (in Dallas and elsewhere), largely as a result of claims that white cops those cities had shot an unarmed black man.

Within a 24 hour period Police officers in: Dallas (link), Tennessee (link), Missouri (link) and Georgia (link) have been Shot or killed, as a direct result of a false narrative driven by the Black Lives Matter movement.

Now, it turns out that these claims were entirely false!
---

The armed robbery occurred on July 2nd 7:30pm (Sat). The CCTV images were given to media and LEO by detectives on July 5th (Tuesday). A BOLO (Be On Look Out) alert was issued the same day, Tuesday July 5th. Philando Castile was pulled over on July 6th.
2016/07/08/confirmed-philando-castile-was-an-armed-robbery-suspect-false-media-narrative-now-driving-cop-killings/
Confirmed: Philando Castile Was an Armed Robbery Suspect
– False Media Narrative Now Driving Cop Killings…
Posted on July 8, 2016 by sundance
The Falcon Heights, Minnesota police shooting of Philando Castile is based around an entirely false narrative. Castile and Ms. Diamond Reynolds (Facebook video uploader) were pulled over by police because Castile matched a BOLO Alert for an armed robbery suspect from four days prior.
Unfortunately, the false statements in the video – which have gone viral, and are being pushed by the mainstream media – have created a backlash against police officers.
Police officers in: Dallas (link), Tennessee (link), Missouri (link) and Georgia (link) have been Shot or killed in the past 24 hours as a result of a false narrative driven by the Black Lives Matter movement. It is important to get the truth out quickly.
Saint Anthony, MN, Police Officers Jeronimo Yanez and Joseph Kauser pulled over Mr. Castile and Ms. Reynolds because the driver, Philando Castile, matched the suspect profile in an armed robbery which occurred on July 2nd, at a convenience store, only a few blocks from where their car was pulled over.
---
http://www.cnn.com/2016/07/07/us/baton-rouge-alton-sterling-shooting/

Sterling was selling CDs early Tuesday outside the Triple S Food Mart in Baton Rouge, the source said, when the homeless man approached him and asked for money.

The man was persistent, and Sterling showed him his gun, the source said.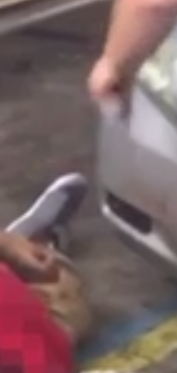 The officer radios for an ambulance. As Sterling moves his left arm toward his face and then his chest, the other officer appears to remove something from one of Sterling's right pockets.

Sterling was armed at the time he was killed and one witness said the officer removed a gun from Sterling's pocket.
Move mouse over image.
Click for full video
Baton Rouge
One of the crucial next steps will be to determine what happened before the confrontation ensued Tuesday. Authorities said the officers were responding to the 911 report of a man with a gun. A source close to the investigation told CNN the 911 caller said Sterling was "brandishing a gun." A law enforcement source with knowledge of the investigation told CNN that the officers pulled a gun from Sterling's body at the scene.

---
---
http://www.dailywire.com/news/7264/5-statistics-you-need-know-about-cops-killing-aaron-bandler
Here are five key statistics you need to know about cops killing blacks.
1. Cops killed nearly twice as many whites as blacks in 2015. According to data compiled by The Washington Post, 50 percent of the victims of fatal police shootings were white, while 26 percent were black. The majority of these victims had a gun or "were armed or otherwise threatening the officer with potentially lethal force," according to MacDonald in a speech at Hillsdale College.

Some may argue that these statistics are evidence of racist treatment toward blacks, since whites consist of 62 percent of the population and blacks make up 13 percent of the population. But as MacDonald writes in The Wall Street Journal, 2009 statistics from the Bureau of Justice Statistics reveal that blacks were charged with 62 percent of robberies, 57 percent of murders and 45 percent of assaults in the 75 biggest counties in the country, despite only comprising roughly 15 percent of the population in these counties.

"Such a concentration of criminal violence in minority communities means that officers will be disproportionately confronting armed and often resisting suspects in those communities, raising officers' own risk of using lethal force," writes MacDonald.

MacDonald also pointed out in her Hillsdale speech that blacks "commit 75 percent of all shootings, 70 percent of all robberies, and 66 percent of all violent crime" in New York City, even though they consist of 23 percent of the city's population.

"The black violent crime rate would actually predict that more than 26 percent of police victims would be black," MacDonald said. "Officer use of force will occur where the police interact most often with violent criminals, armed suspects, and those resisting arrest, and that is in black neighborhoods."

2. More whites and Hispanics die from police homicides than blacks. According to MacDonald, 12 percent of white and Hispanic homicide deaths were due to police officers, while only four percent of black homicide deaths were the result of police officers.

"If we're going to have a 'Lives Matter' anti-police movement, it would be more appropriately named "White and Hispanic Lives Matter,'" said MacDonald in her Hillsdale speech.

3. The Post's data does show that unarmed black men are more likely to die by the gun of a cop than an unarmed white man...but this does not tell the whole story. In August 2015, the ratio was seven-to-one of unarmed black men dying from police gunshots compared to unarmed white men; the ratio was six-to-one by the end of 2015. But MacDonald points out in The Marshall Project that looking at the details of the actual incidents that occurred paints a different picture:

The "unarmed" label is literally accurate, but it frequently fails to convey highly-charged policing situations. In a number of cases, if the victim ended up being unarmed, it was certainly not for lack of trying. At least five black victims had reportedly tried to grab the office's gun, or had been beating the cop with his own equipment. Some were shot from an accidental discharge triggered by their own assault on the officer. And two individuals included in the Post's "unarmed black victims" category were struck by stray bullets aimed at someone else in justified cop shootings. If the victims were not the intended targets, then racism could have played no role in their deaths.

In one of those unintended cases, an undercover cop from the New York Police Department was conducting a gun sting in Mount Vernon, just north of New York City. One of the gun traffickers jumped into the cop's car, stuck a pistol to his head, grabbed $2,400 and fled. The officer gave chase and opened fire after the thief again pointed his gun at him. Two of the officer's bullets accidentally hit a 61-year-old bystander, killing him. That older man happened to be black, but his race had nothing to do with his tragic death. In the other collateral damage case, Virginia Beach, Virginia, officers approached a car parked at a convenience store that had a homicide suspect in the passenger seat. The suspect opened fire, sending a bullet through an officer's shirt. The cops returned fire, killing their assailant as well as a woman in the driver's seat. That woman entered the Post's database without qualification as an ""unarmed black victim"" of police fire.

MacDonald examines a number of other instances, including unarmed black men in San Diego, CA and Prince George's County, MD attempting to reach for a gun in a police officer's holster. In the San Diego case, the unarmed black man actually "jumped the officer" and assaulted him, and the cop shot the man since he was "fearing for his life." MacDonald also notes that there was an instance in 2015 where "three officers were killed with their own guns, which the suspects had wrestled from them."

4. Black and Hispanic police officers are more likely to fire a gun at blacks than white officers. This is according to a Department of Justice report in 2015 about the Philadelphia Police Department, and is further confirmed that by a study conducted University of Pennsylvania criminologist Greg Ridgeway in 2015 that determined black cops were 3.3 times more likely to fire a gun than other cops at a crime scene.
5. Blacks are more likely to kill cops than be killed by cops. This is according to FBI data, which also found that 40 percent of cop killers are black. According to MacDonald, the police officer is 18.5 times more likely to be killed by a black than a cop killing an unarmed black person.
Despite the facts, the anti-police rhetoric of Black Lives Matter and their leftist sympathizers have resulted in what MacDonald calls the "Ferguson Effect," as murders have spiked by 17 percent among the 50 biggest cities in the U.S. as a result of cops being more reluctant to police neighborhoods out of fear of being labeled as racists. Additionally, there have been over twice as many cops victimized by fatal shootings in the first three months of 2016.
Anti-police rhetoric has deadly consequences.
This article has been modified to correct Greg Ridgeway's name
.